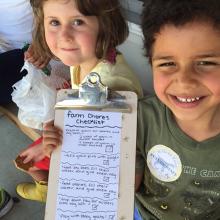 Children 12 and younger are invited to experience the Goat Dairy at Hildene Farm in our farm chores program from 9:30 to 11:00, a family with children ages 3 through 12 can register for one morning of ?Farm Chores at the Goat Dairy.? From feeding and grooming goats to pitching their pens and cleaning their feeders to having fun exploring the hay mow, children experience an up-close and personal encounter with the farm, the friendly Nubian goats in residence and the farm staff who care for them. This program will be offered as weather permits. 2019 Dates to be determined.
PRE-REGISTRATION IS REQUIRED AT LEAST 48 HOURS IN ADVANCE. 
$20/Hildene member family, $30/non-member for  families of four. Each additional person is $5.  Children must be accompanied by an adult. To register please call 802.379.0519 or email farm@hildene.org.