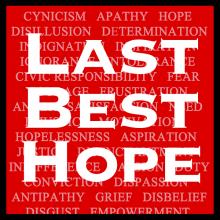 Is America's democracy in danger? By any measure, it would seem the tenor of current political discourse on the national level is both distasteful and divisive, giving rise to despair and worse, apathy.  With the steady weakening of faith in key governmental cultural institutions, erosion of political norms and fast approaching mid-term elections, there is much at stake. Why is this happening and how do we fix it? Is the same loss of faith in democracy occurring in Vermont?  What is required of the citizenry of this country to protect and nurture our democracy?
 
Members of the community inclined to take on these questions and engage in thoughtful dialogue are invited to gather under the Hildene event tent on Tuesday, September 25, from 5:30 to 6:30 with two prominent Vermont leaders for an important and timely moderated panel discussion.  This event is the third in "The Last Best Hope" series, inaugurated in 2014.  "Last Best Hope" highlights individuals who have engaged in something larger than themselves, changing the world for the better and inspiring others to answer the call to action.  President Lincoln underscored the vital importance of such engagement when he said, "We cannot escape history … we here hold the power and bear the responsibilities … we shall nobly save or meanly lose the last best hope of earth."  
 
This year's speakers, Sue Minter and Brian Dubie, are both familiar faces in the Vermont political landscape.  Minter, President and CEO of Special Olympics Vermont and former state representative and Secretary of the Agency of Transportation, was the Democratic candidate for Vermont Governor in 2016.  Dubie, a captain for American Airlines and strategic advisor to growing companies, was the Vermont Lieutenant Governor from 2002 to 2011 and a candidate for Vermont Governor in 2010. 
 
These leaders exemplify the spirit and determination required if democracy is to survive.  Dubie and Minter both put themselves on the line when they ran for the office of Governor of Vermont.  Both lost their elections and both made personal sacrifices.  Even so, both were clearly mindful of their civic responsibilities and the right of voters in our democracy to have a choice at the ballot box.  They will discuss the meaning of participation, win or lose, and why Americans must take seriously their obligation to engage constructively in the processes required for a vibrant democracy.
 
Following the moderated discussion, community members will have the opportunity to ask questions and share their thoughts.  "Last Best Hope" is free and open to the public.  Seating is limited and reservations are strongly recommended:  email Stephanie@hildene.org or call 802.367.7960.  To learn more about Hildene, go to www.hildene.org.