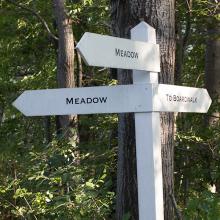 On Thursday, July 14, from 9:30 am to noon, Hildene's horticulturist, education director and Dene Farm manager will lead a program on the ecology of Hildene's lower meadows and wetland. Andrea Luchini will discuss the issue of invasive plants. Diane Newton will lead the group into the wetland for a hands-on activity to gain an understanding of the ecosystem and its ecological importance. Brooke Decker will complete the tour with a visit to the adjacent bird sanctuary where she will talk about meadow ecology and efforts to encourage bobolinks and other pollinators.

Registration is required. Enrollment is limited to 20 participants: $10 for Hildene members, $15 for non-members. Attendees will park at the Welcome Center and Hildene will provide all transportation to and from Dene Farm. The bus will leave the parking lot promptly at 9:30 am. Participants should wear comfortable walking shoes and bring a water bottle. The shuttle will return to the Welcome Center by noon. The rain date is Thursday, July 21, from 9:30 am to noon.
For more information and to register, contact Stephanie at 802.367.7960 or stephanie@hildene.org.