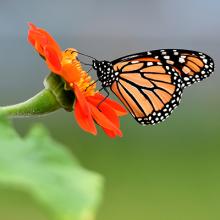 JUNE - SEPTEMBER: Thursdays in the Garden
Every Thursday from June 3 – September 16, 3:30 to 4:30pm, join Hildene gardeners for an informal walk-and-talk in the teaching gardens behind the Welcome Center where Hildene maintains the following gardens: flower cutting, butterfly, peony, and the Giving Garden (which supplies produce to the local food cupboard). This area also has apple trees and a soft fruit cage, in addition to compost bins and a historic potting shed. Topics will vary, depending on what's happening in the garden. This program is free with admission or $10 for non-members wishing to come to Hildene just for the program. Everyone must check-in/make payment at the Welcome Center. Members are reminded to pick up their stickers.  Covid protocols, including masks and social distancing, will be followed. Questions? Please contact stephanie@hildene.org or call (802) 367-7960.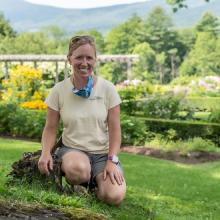 JUNE - OCTOBER: Guided Garden Tours
Join Hildene horticulturist, Andrea Luchini, for a stroll through gardens rooted in history and maintained to ensure a sustainable future. Explore both the historic formal, cutting and kitchen gardens, as well as the newer plantings such as the native plant pollinator and butterfly gardens. Come with your questions! This hour-long tour is for individuals or groups up to 10 persons: $10/person; Mondays, 11:00 to noon, and Fridays, 2:00 to 3:00pm, June 7 – October 15, by reservation only. Please note that this is an add-on tour and does not include general admission (which is $23/adult, $6/children ages 6 to 16, and free for children under 6 and for our members). Please contact Stephanie at (802) 367-7960 or stephanie@hildene.org.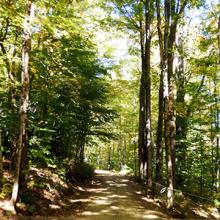 AUGUST - OCT: Into the Woods Exploration Backpack Program
Looking for a fun way to nurture your child's appreciation for the natural world? Check out our Into the Woods exploration backpack which contains all the essential tools for discovery. Through a series of stops along a Hildene trail, children will engage in hands-on forest activities. Suggested for ages 5 to 10, the adventure is intended to take between 1- 2 hours. Packs can be checked out from The Museum Store: $20 members/$25 for nonmembers in addition to admission. Questions? Pease contact Stephanie at (802) 367-7960 or stephanie@hildene.org.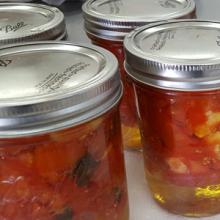 August 29 Summer in a Jar: Pressure Canning Workshop
Those who do canning know well the joy of opening a jar of preserved veggies in January and experiencing the wonderful tastes of summer. On August 29 from 1:00 to 3:00pm at Hildene, Jane and Ken Moriarty will teach participants how to make and preserve a tomato-squash-onion sauce (a base for so many wonderful recipes) by demonstrating the safe and straight-forward pressure-canning methods of today.  $15 for members, $20 for non-members. Limited to 10 participants, each of whom will take home a quart jar of sauce. Preregistration required by Wednesday, August 25. For more information and to register, contact Stephanie at 802.367.7960 or stephanie@hildene.org.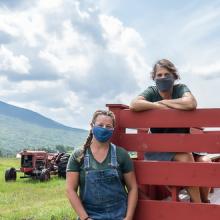 SEPT/OCT: Hildene Farm Wagon Rides
Join Hildene Farm managers Ann Hausslein (gardens) and Kim Pinsonneault (livestock) on Sundays for a wagon ride exploration of Hildene Farm in the dene. Learn about the diverse natural and cultivated ecosystems and sustainable farming systems. Swing by the greenhouse, hayfields, orchard, wetland overlook, compost facility, apiary, animals (including alpaca, Randall cattle, pigs, sheep, rabbits and chickens), and vegetable, flower, and herb gardens. There is a lot to be discovered in the dene! Choose between a morning or early afternoon ride, September 5 – October 24. Registration required. $50 for a group of up to 8 persons. Call or email Stephanie at (802) 367-7960 or stephanie@hildene.org.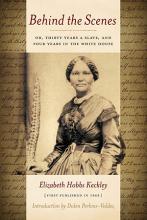 September 19: Hildene Reads
Hildene Reads, fall book group, Sunday, September 19, at 2pm. Hildene will host a discussion of Elizabeth Keckley's "Behind the Scenes: Or, Thirty Years a Slave and Four Years in the White House." Keckley was a highly successful seamstress who worked for and was a confidante of Mary Lincoln's. Her book recounts not only her remarkable life from slavery to successful businesswoman as a dressmaker, but also includes her observations of the first family and about her friendship with the first lady. Although she had written it to help Mrs. Lincoln financially after the president was assassinated, she was widely criticized for sharing what was considered private information. Mary Lincoln never spoke to her again and her career as a seamstress was ruined. Keckley will be featured in a much anticipated exhibit on the history of American fashion due to open in September which will be hosted by the Costume Institute of the Metropolitan Museum of Art. Books may be checked out from your local library; purchased through Hildene's The Museum Store, The Northshire Bookstore or your local independent bookstore; or from an online source. To register for this free event, please email Stephanie: stephanie@hildene.org or call (802) 367-7960.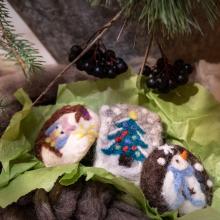 November 14: Soap Felting Workshop
Handmade for the Holidays!  Make decorative felted goat milk soap (scrubbies) Sunday, November 15, 1:00 to 3:00pm, with Hildene Farm managers Kim Pinsonneault and Misty Hosley. Felted soap acts as a soap and washcloth all in one. Wool, naturally antimicrobial and soft, makes for an ideal shower scrubby.  As you use it, the wool continues to shrink while the soap gradually diminishes. When the soap is gone, the shower scrubby remains. No waste! You'll use Hildene Farm wool fiber and goat milk soap to create a sustainable, festive and useful home good or gift. In-person: $20 non-members, $15 members/$25 nonmembers, plus $15 materials fee which includes soap plus all fiber and tools. Limited to 15 participants. Preregistration required by Friday, November 5: stephanie@hildene.org or call 802-367-7960.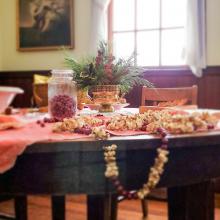 DEC 2 - JAN 1: Hildene Holidays, Christmas Eve in 1912
Robert and Mary's home is decorated as though it were Christmas Eve 1912. As of December 2nd and through the month, you'll experience the time, traditions, and nostalgia of holidays past. Current COVID protocols suggest there will be limited capacities in the home; masks and social distancing required.