Membership
Discover Something New With Every Visit!
When you become a member of Hildene, you'll join thousands of people who are helping to preserve more than historic bricks and mortar. You help us advance our mission: Values into Action. And you help safeguard Hildene for future generations. 
Membership Benefits
Unlimited year-round admission to:                        
• Hildene, Robert and Mary Lincoln's home                        
• 412 acres with 12 miles of trails                        
• 1903 restored Pullman Palace railcar                       
• 600-foot floating boardwalk                       
• Formal & production gardens                       
• Working farm & cheese-making facility                       
• Thought-provoking exhibits                        
• Year-round programming for youth and adults
Wonderful activities, events and discounts:                       
• Complimentary member guest passes (quantity based on membership level).                     
• A full agenda of workshops, programs and events with free or reduced admission.                       
• 10% off at The Museum Store at Hildene and on-line store                       
• Early registration and reduced rates for Hildene's Summer Camps for your children or grandchildren (Family Membership level and above).                       
• Free or reduced admission to American Horticulture Society gardens and arboreta www.ahsgardening.org and to over 1100 North American Reciprocal Museums nationwide www.narmassociation.org                       
• Free admission to John Hay's New Hampshire home, The Fells Historic Estate and Gardens                       
 
Additional FREE Member Activities for 2023
• Thursdays: What's Happening Here?: June 15 through August 10: Drop in to a different corner of Hildene's 412 acres for an informal, up-close visit with the staff. Gain insights on a variety of topics, different each week, from flower and vegetable gardening, to livestock care and rotational grazing practices, to pollinator habitat and stewardship.                       
• Fridays: Member Walking Group: June 2 through November 17: Meet other Members and get your steps in on our 12 miles of walking trails. These brisk walks average 2 miles and are approximately 1 hour long.                       
• Saturdays: Guided Nature Walks: August 12 & 26: Join us on a different exploratory walk every week, focusing on in-the-field species identification of local flora and fauna and their ecological connections to our landscape.
For More Details:
See Our Event and Activity Calendar               
 
Plus you will get our eNewsletter and periodic special mailings highlighting programs, projects, and volunteer activities and the satisfaction of being a part of the restoration and growth of one of America's great estates.                        
Choose Your Membership Level
Choose the Membership Level that's right for you and enjoy complimentary invitations to Hildene's signature experiences and events!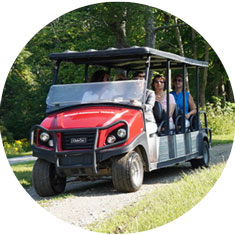 Golf Cart Tours
Back by popular demand! Sustaining Members and above: Your personal Hildene adventure awaits! Invite your friends and family to join you for a private golf cart tour of the property. Tours will be scheduled at a mutually agreed-upon date and time.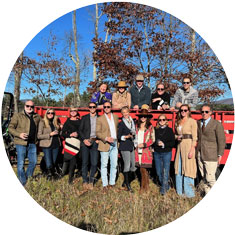 Autumn Harvest Festival
Preservation Society Members will be our guests for a family-friendly event in the late afternoon sun at Hildene Farm in the dene on September 22, 2023.  This unique experience will include wagon rides, meadow walks, pumpkin picking, activities for all ages, local beer and spirits, delicious food by Pangaea, music, and more. So put on your boots, and let's have a party!  Invitations will be sent early August.
"We jumped right into all the fun at Hildene, starting with a Sustaining Membership to get the golf cart tour! The customized golf cart tour gave a terrific, firsthand view of the vast farm programs and land use. The benefits of membership are plentiful. Year-round access, events and activities for adults and children, all supporting a thriving and exciting mission. There is something for everyone at Hildene!" — Janet C. member since 2021
Become A Member Today
*** Click to learn more about the additional benefits at each level ***
Individual $60.00                                          
Membership benefits for 1 person + two member guest passes
Family $100.00                                          
Membership for 2 adults & their children or grandchildren under 16 + four member guest passes
Sustaining $150.00                                          
Membership for 2 adults & their children or grandchildren under 16 + six member guest passes + golf cart tour  
Contributing $250.00                                          
Membership for 2 adults & their children or grandchildren under 16 + eight member guest passes + golf cart tour
Patron $500.00                                          
Membership for 2 adults & their children or grandchildren under 16 + ten member guest passes + golf cart tour
Preservation Society $1000.00                                          
Membership for 2 adults & their children or grandchildren under 16 + twelve member guest passes + golf cart tour + invitation for the family to the Autumn Harvest Festival in the dene
If you prefer to download and print the form, you may do so by
CLICKING HERE.
Please contact the Membership Office with any questions: (802) 367-7964     
Membership Details
A Hildene Membership entitles the named cardholders and minor children or grandchildren (aged 16 and younger) to general admission during our regular hours of operation. Additional guests accompanying you (aged 17 and older) must present a single-use member guest pass or pay regular admission.
All memberships will expire on May 31st of the following year. All memberships purchased, or renewed, after January 1 are effective through May 31st of the following year.
Friends of Hildene, Inc., a 501 (c)(3) tax-exempt non-profit organization, owns and maintains this magnificent estate.