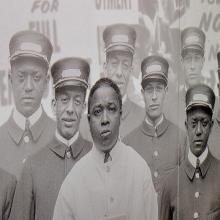 Robert Lincoln, son of the Great Emancipator, Abraham Lincoln, built his ancestral home, Hildene, in Manchester, Vermont in 1905. The 412 acre estate was home to three generations of the President's descendants.  The thought provoking exhibit at the 1903 Pullman palace car, Sunbeam, paradoxically links the presidential son with his famous father.  The meticulously restored executive car came off the line during Robert Lincoln's tenure as Pullman Company president.
 
The Pullman Company at the turn of the century was the largest manufacturing company in the world. It was also the largest employer of African Americans in the country, offering slaves freed by the Emancipation and the 13th amendment jobs as Pullman porters.  In spite of the exploitive environment in which they worked, these men were able to better their lives and those of their families, helping to give rise to America's black middle class.
 
The interpretation at Sunbeam includes a timeline that spans the 100 years from the Emancipation Proclamation in 1863 to the Civil Rights Movement and March on Washington in 1963 and the exhibit "Many Voices."   The  voices are those of the Pullman Company, the wealthy passengers who traveled in its comfort, the porters who provided the impeccable service that made travel by Pullman second to none, and the visitors who, it is hoped  will, upon examining the challenging content of the exhibit, raise questions and engage in civil discourse with others about it. 

Guided by its mission: Values into Action, Hildene uses Sunbeam to present a history that is illuminating and challenging in its content, one that raises questions and one intended to stimulate and encourage civil discourse. 

The story of the black Pullman porters told in the context of the Many Voices exhibit at Pullman car, Sunbeam, places Hildene on the Vermont African American Heritage Trail.
Open daily 9:30 to 4:30 year round.  www.hildene.org