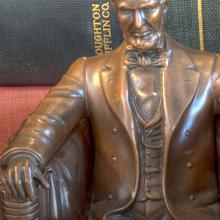 On Sunday, January 22, 2017 at 2:00 in the Beckwith Room, Hildene presents "The Evolution of Lincoln's Engagement with the Issue of Slavery." In the wake of the national celebration of civil rights icon Martin Luther King Jr.'s January 16th birthday, Hildene President, Seth Bongartz, will shed some light on the complex thinking of one of the nation's earliest civil rights activists, President Abraham Lincoln.

When Reverend King delivered his famous "I have a Dream Speech" on the steps of the Lincoln Memorial in 1963, he said, "Five score years ago, a great American, in whose symbolic shadow I stand, signed the Emancipation Proclamation … a great beacon of light and hope to millions of Negro slaves, who had been seared in the flames of withering injustice." It then was, and now is, widely known that Lincoln hated slavery from the time he began to form his own thoughts as a young man and it was Lincoln who brought about the end of slavery. Yet he also long thought blacks to be inherently inferior to whites. Bongartz will explore that incongruity and focus on how Lincoln's thinking about both slavery and the place of blacks in American society changed over the course of his lifetime, with important events such as the repeal of the Missouri Compromise, getting to know and respect Frederick Douglas and the valor of black troops in the Civil War, serving as catalysts. Bongartz will suggest a progression through which Lincoln eventually began to line up his disdain for slavery with the reality of blacks being fully entitled to the same rights and privileges afforded whites. There will also be time for questions and discussion.

This Hildene program is free to Hildene members and $5 for non-members. Check in is at the Welcome Center. General Admission is not required for attendance at this presentation. For more information visit www.hildene.org, call 802.362.1788 or email info@hildene.org.