Hildene Farm & Goat Dairy
Farming has long been a part of the Hildene experience.
Robert was a gentleman farmer. He kept a dairy herd, raised chickens, and produced milk, butter and eggs. His granddaughter Peggy Beckwith, the last Lincoln to live at Hildene, also had a dairy herd, sheep and later, Black Angus cattle.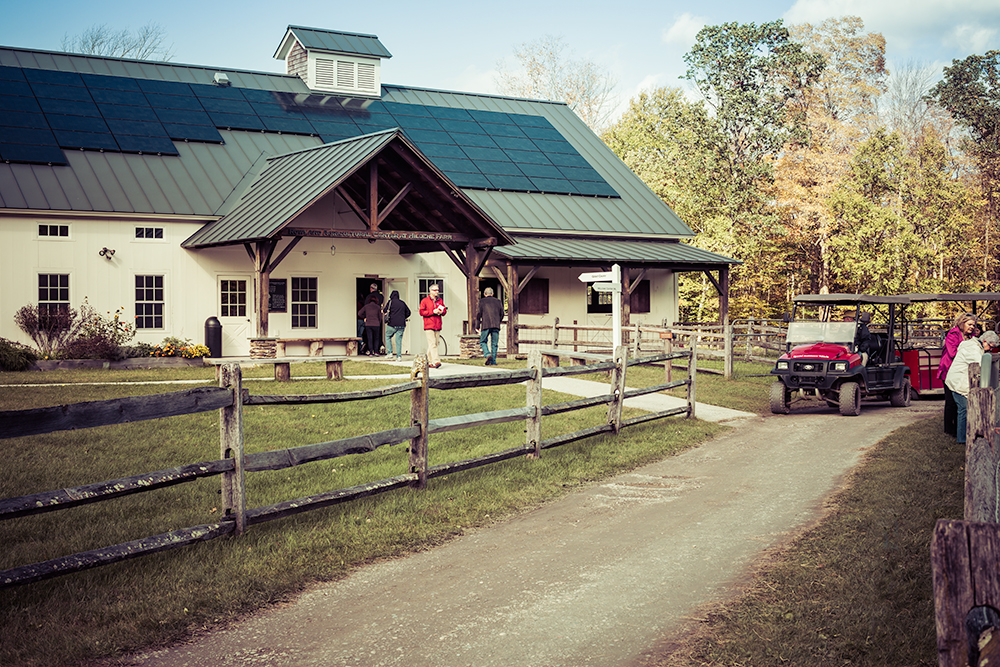 Most of the Lincolns' farming operations took place on the 56-acre meadow in the valley below the promontory where the home is located. Today those meadows have been returned to agriculture and are home to Dene Farm. You can visit it by foot by going down the Maple Trail.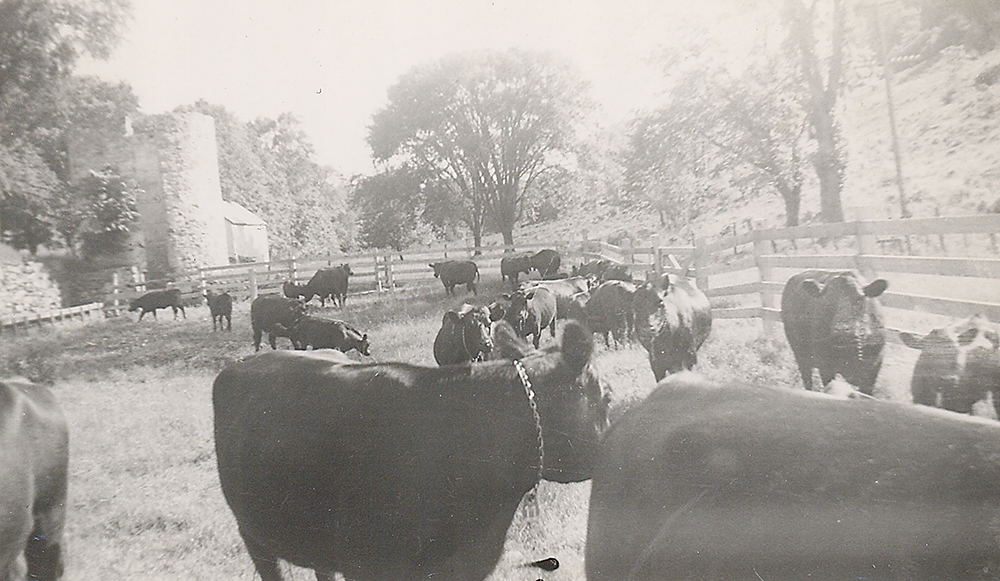 The piece of land where the goat dairy and cheesemaking facility is located was originally a hay field but it presented an ideal location to reintroduce agriculture on the estate. It shows guests what can be accomplished on a relatively small, 10-acre parcel of land. The agricultural renaissance taking place in Vermont is driven in large part by small-scale, niche agriculture. Our goat dairy is a perfect example of that.
This farm, where we raise dairy goats and make cheese, is called a micro-operation. It is scaled to Hildene's needs and a limited market and we produce excellent, non-factory-made products here.
Completed in 2008, our barn combines elements of an eighteenth-century post and beam timber frame with a twenty-first century milking parlor, cheesemaking room and aging cave.
A key theme across Hildene's 412 acres is sustainability. In accordance with our 25-year forest management plan, almost all of the lumber used to build this 40 X 100 foot barn was harvested on the property and then milled on-site with our sawmill.
We heat almost all of our buildings with highly efficient wood burning furnaces. By utilizing renewable energy, like cordwood and the solar panels which you can see on the roof, we eliminate the use of more than 7,000 gallons of oil and other fossil fuels property-wide annually.
The array of 109 solar panels on the south facing roof, reduces the amount of electricity we need to purchase from the public utility. On a sunny day, the panels collect and use solar energy to power the operation. If there is an excess we send it back to the public utility. On a cloudy day or short winter days, when we need more energy than is produced by the panels, we then draw from the grid. In the give and take, we not only save on our utility bill but lessen our impact on the environment by reducing our carbon footprint.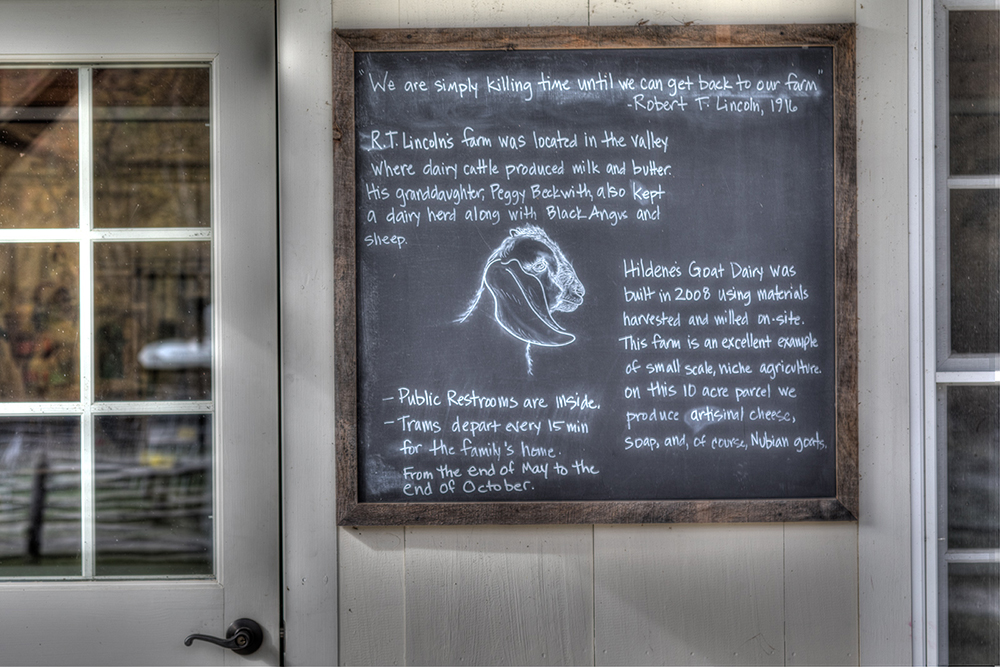 The manure produced by our goats and the farm animals on the lower meadows, is collected and combined with yard and garden waste and food scrapes property wide to produce a high-quality compost that is then used in our gardens, meadows and pastures.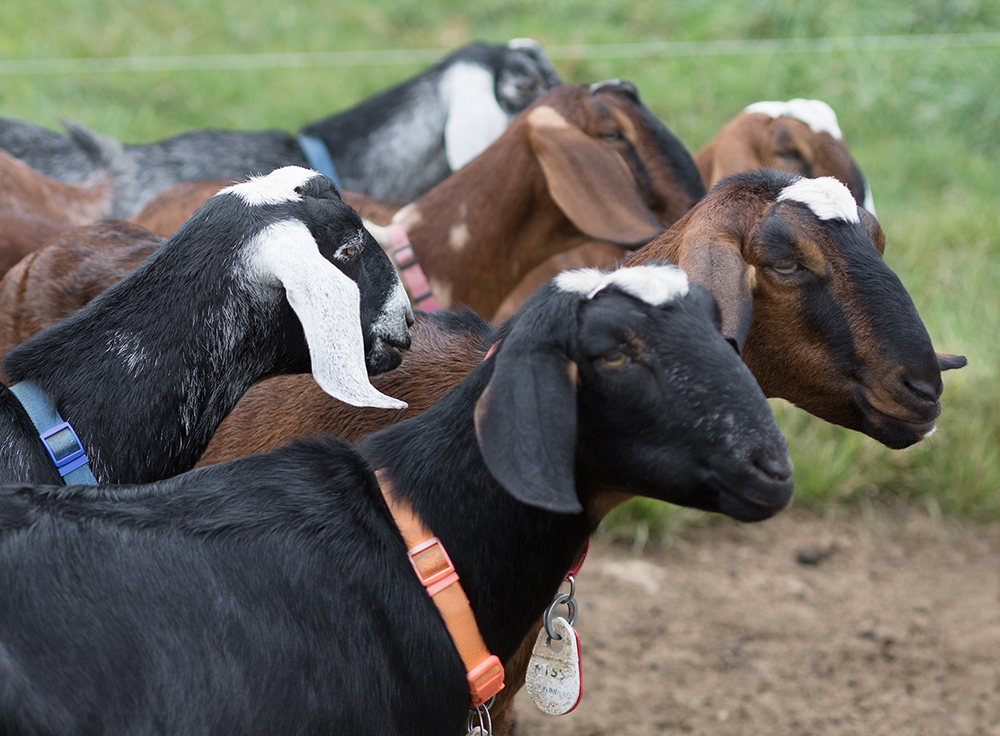 Nubian goats produce milk with a high butterfat content and protein percentage that is perfect for artisanal cheese production. They are also friendly and easy to work with. The goats produce milk after the birth of the kids in the spring to late fall. The milking parlor accommodates six goats at a time. The milking machines transfer the milk through a sterile glass tube to the bulk tank for the first part of the purification process. The milk is then sent to the cheese make room for pasteurization and then to the cheesemaker.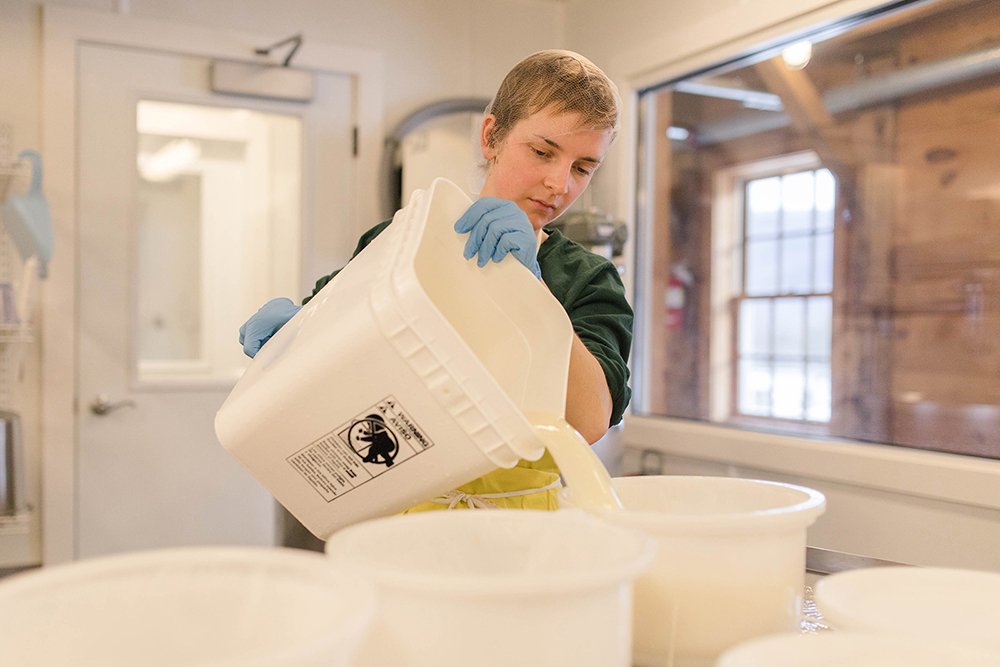 Cleanliness is of paramount importance to an excellent finished product. Using high quality milk processing equipment, careful procedures and monitoring by staff assure the purest milk is delivered to the cheesemaker.
We make only two cheeses from our goats' milk: our signature chevre and an aged tomme. Chevre does not require any aging and so it is called a fresh cheese. The tomme ages from four to six months in our cheese cave.
During the winter months, when the goats are dried off, we bring in cows' milk from an area farm and make a cows' milk tomme. This, like the goat milk tomme, is aged for four to six months. We also make a semi-soft banon-like cheese – Maple Rum Leaf. Depending on the season, all four cheeses are available in the Welcome Center.
Hildene Farm Goat Dairy Frequently Asked Questions