ADVANCE MISSION   |   CREATE OPPORTUNITY
Lincoln Hall, our 14,000-square-foot, four-season assembly building, will be a transformational asset to our campus.
It is the largest most significant capital construction project at Hildene since Robert Lincoln completed construction of his family home in 1905.
Lincoln Hall will enable robust world-class educational and civic programming year-round.
Hildene is an experiential learning site committed to carrying the values of Abraham Lincoln to future generations. The construction of Lincoln Hall launches the next great phase of Hildene's growth. With your support, our historic property will soon have a state-of-the-art venue for programs that will engage people in critically important conversations—civic engagement that will help to shape our future. In drawing great minds and interested individuals to Hildene in greater numbers, we will set the course for future generations to engage with history, to interact with Hildene's collection and property, and truly live out Lincoln's values.
Hildene's Board of Trustees and hundreds of passionate donors recognize the need for a multi-functional, state-of-the-art, assembly hall for presentations, workshops, forums, symposiums, and celebrations. Please join them with a donation to Lincoln Hall. Make your gift now!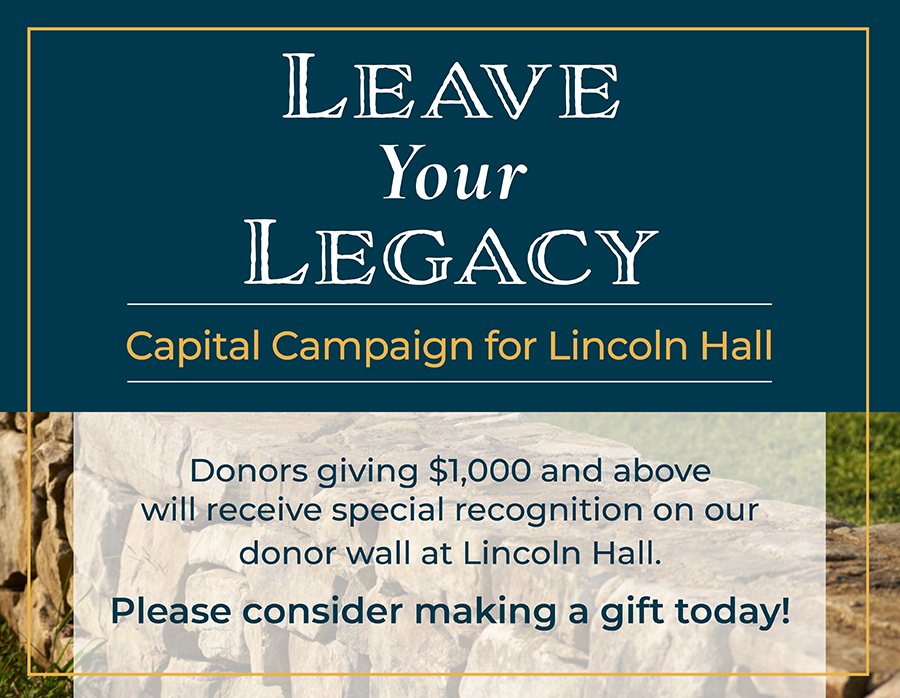 Together, we will continue to be the proud and careful stewards of Hildene and the Lincoln family's legacy.
Consider Your legacy.
Imagine your children and grandchildren seeing your name on the donor recognition wall and knowing that you made a difference.
Donations can be made in your name, in memory of, in honor of, or anonymously.
Please make your gift today and leave your legacy at Hildene!
What is Lincoln Hall?
Lincoln Hall is a stately, modern, high-performance designed building in the heart of our campus
14,000 sf multi-level building
Elegant architecture complimenting the Lincoln Home
Best practices of LEED and VT building and energy standards
State-of-the-art audio-visual hybrid technology
Beautiful views and landscaping
Conference rooms and cafe
Outdoor patio and terrace spaces